Yoon Eun Hye, Will She Be Recognized For Her Acting Ability With 'Ma Beul Mi (MBMD)'?
[Sports Today, Reporter Go Kyunn Suk]
Singer turned actress Yoon Eun Hye has turned in a faultless acting performance in 'My Black Mini Dress', and is gathering interest to whether she will be able to leave her 'Acting controversy' days behind.
The movie, 'My Black Mini Dress' portrays dreams and friendships between four acting major graduates, who each face success and ordeals upon hitting the society.
Yoon Eun Hye played Yoo Min, the main character who carries the entire movie. Yoo Min of the movie becomes an intern writer at a broadcasting station upon graduation, utilizing her talents evident during the high school years.
While she thinks that a writer's job is to only write well, the reality is that she ends up having to do meaningless work requested by a senior writer. She even ends up parenting the senior writer's little kids.
Yoo Min, who is similar to a line from the movie, 'doesn't want to be called a 'Dweng-jang-nyu (girls who love expensive brand labels & lifestyles), ends up dating a handsome 2nd generation conglomerate. But dating a man who treats dating relationships as same as shopping experiences, isn't all about pleasure.
Yoo Min of 'My Black Mini Dress' is a young woman who's future is unclear. She isn't as pretty as her friend Hye Ji (Park Han Byul), who becomes a star after being cast from the street. And she also doesn't have the benefits that her friend Min Hee (Yoo In Na) has, wealthy parents.
While Yoo Min is scolded by her mother, who finds out that Hye Ji became a model for a jeans commercial, she fully understands that she isn't good at acting and her appearance is only average. In short, Yoo Min is the most realistic character of the movie.
Yoon Eun Hye is receiving good evaluations for being able to play such a character without any difficulties. Her pronunciation, which has been pointed out occasionally, has also improved much. It is a vast upgrade compared to the performance in her last project, 'Take Care of the Young Lady'.
Yoon Eun Hye is an actress who had shown a big difference in her acting performance according to her characters. She had been receiving acting criticisms, ever since becoming a lead actress of a drama and a movie, without proper preparations.
While she showed potential in drama 'Goong' and 'Escaping Charisma', her acting ability was a target of criticisms. And it was the same case for drama 'Vineyard Man'.
The project in which Yoon Eun Hye achieved a rapid growth was '1st Shop of Coffee Prince'. She received good evaluations by successfully playing Go Eun Chan, an energetic cross dresser who wanted to become a barista, with a charm that only she could have showed. She even received the 'The Best Actress On TV' award at the 2008 'Baek-sang Arts Awards'.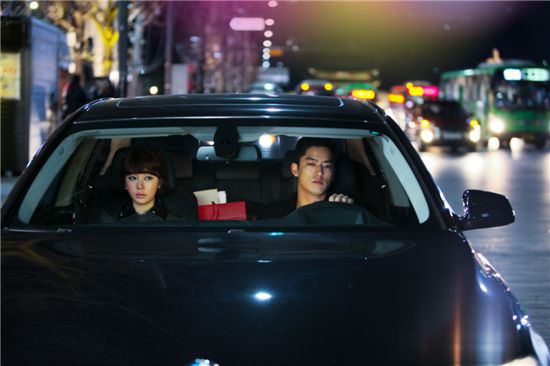 Perhaps it's because acting capacity depends a lot with project, character, and directing, but when she came back with 2 years after '1st Shop of Coffee Prince' with 'Take Care of the Young Lady', she faced both acting and pronunciation criticisms from the beginning.
Yoon Eun Hye at the time admitted to the reporters in regard to her shortcomings, "Even if I look at myself, I see parts that I could have done better". She also talked about her pronuciation, "I'm sure there are things that I have to improve. I'm now focusing little more on the pronunciation."
'My Black Mini Dress' is the project that she'll meet the general public with since 1 year 5 months ago. Yoon Eun Hye, who had faced criticism in her last project, had stated in a recent interview with Asia Economics: Sports Today, "I never thought that I was good in acting. But if I keep trying my best, don't you think I'd improve?".
Yoon Eun Hye's acting performance in 'My Black Mini Dress' is much more natural. Yoo Min, who normally wears a training suit with her messy hair, fits well with Yoon Eun Hye's way of talking with epicene and easy going feel. Her acting performances in emotional scenes are much more fluid and natural than in 'Take Care of the Young Lady'. Her pronunciation has become much better as well.
Yoon Eun Hye helped the audience become immersed in the movie by easily depicting the frustrations and difficulties of a character, who is similar in age as herself. Her acting harmony with other actors, such as Yoo In Na, Cha Ye Ryun, Park Han Byul, and etc., also showed a faultless performance. While her performance may have been lacking in comparison to the top senior actors, her remarkable charm that can only be showcased by a young actress in her 20's was more than enough to steal attention from the audience.
Unlike Yoon Eun Hye's 1st movie 'Escaping Charisma', her 2nd movie, 'My Black Mini Dress' isn't doing so bad at the box office as well. On it's first day(24th) at the theaters, it gathered 16,820 audiences throughout 219 theaters, to come in at 2nd place.
While the sales numbers can't be described as a high number, the fact that it came in 2nd place with results that are similar to the 4 time Academy Awards winner 'King's Speech', and the fact that the movie industry is going through a severe March famine at the box office right now, the results bring hope. Will Yoon Eun Hye be able to be recognized for her acting ability and succeed at the box office? This is the reason why interest in the box office office results of 'My Black Mini Dress' is rising.
Source: Asia Economy
___________
Excerpts from:
'Ma Beul Mi (MBMD)' The Role That Is Most Yoon Eun Hye-like
[Reporter Seo Byung Ki, Culture of General Public, Herold Media]
'My Black Mini Dress' (Director Heo In Moo) that opened on the 24th reminds you of 'Bridget Jone's Diary' and 'Take Care of the Cat'. There are similarities between Bae Do Na of 'Take Care of the Cat' and Yoon Eun Hye of 'My Black Mini Dress'. If 'Take Care of the Cat' contained the sensibility of minorities, 'Ma Beul Mi (MBMD)' contains a bigger picture of that sensibility.
'Ma Beul Mi (MBMD)', which contains careers and love of unmarried women in their 20's, displays the growth of four acting major friends, Yoo Min (Yoon Eun Hye), Hye Ji (Park Han Byul), Soo Jin (Cha Ye Ryun), Min Hee (Yoo In Na), through their friendships, envy, family, love, career, and etc..
It is a process of becoming more mature, through the realization that things in the real world aren't as easy as they'd thought during the school days. This is natural, since all they had on their resumes were dating and clubbing experiences.
While all four actresses and their characters stand out, Yoon Eun Hye suits her character better than any other role she's played in past. Yoo Min, who becomes an intern at a broadcasting station thanks to her mother, lacks 2% of looks, dating skills, and job skills. While she feels the high wall of reality and angrily tells her mother, "Then why didn't you have me born pretty like Hye Ji?", we can sense that she is a very realistic character.
Yoon Eun Hye was turned away when she acted as a tough girl in her first movie, 'Escaping Charisma (2006)'. But in 'Ma Beul Mi (MBMD)', she suits the role well because she aggressively selected and worked to create her character. Yoon Eun Hye performs a woman who struggles with her shortcomings in looks, dating, and wealth, but someone who ultimately realizes that her dreams are wrong, without over portraying or under portraying the character. Therefore, she comes towards the audience in a comfortable and common way.
Yoon Eun Hye has been gaining experience consistently through 'Goong', '1st Shop of Coffee Prince', 'Take Care of the Young Lady', and etc.. While she'd faced acting and pronunciation criticisms at times, her performances had fit the characters that she played, and she was able to fortify her acting skills a step by step. She knows how to melt her image into her character, and it seems that she is opening her eyes to acting naturally.
[Source: Herald Media]